Deck Plans & Specifications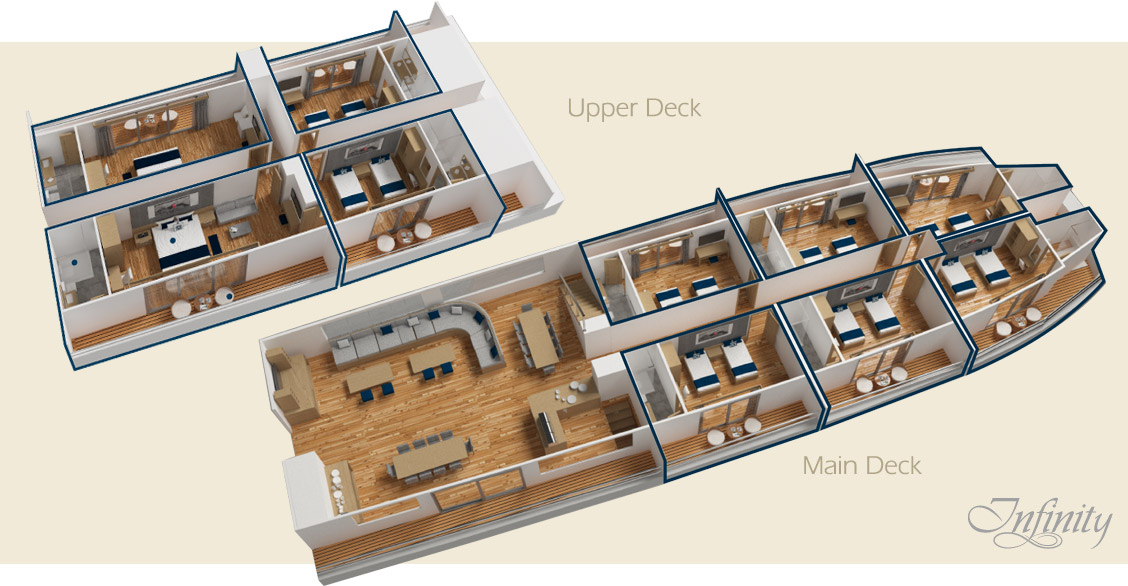 Hover and click on image areas () to view them in detail.
Main Deck

Upper Deck

Sundeck

Specifications

Year of construction:
2018
Type:
Luxury Motor Yacht
Length:
161 feet / 49 meters
Beam:
33 feet / 10 meters
Draft:
8 feet / 2.4 meters
Speed:
10 knots
Capacity:
20 guests
10 Crew members + 1 Cruise Director + 2 Bilingual Guides*
Main engines:
2x SCANIA - 550HP
Gross Tonnage:
420 Tons
Generators:
2x JohnDeere Genset 70kw@1800rpm stanby 3ph 60Hz
Accommodation:

Main Deck: 6 double cabins (237ft² / 22m², 226ft² / 21m² and 270ft² / 25m²), Dining room (1,216ft² / 113m²).
Upper Deck: 2 double cabins (247.5ft² / 23m²), 2 double Suites (360.6ft² / 33.5m² and 376.7ft² / 35m²). Suite 8 and Cabin 10 are interconnected.

All cabins with private balconies, hot water and air-conditioning.

Safety & Navigation:
All equipment meets / exceeds the international safety standards:



Life vests
GPS
Sonar
Naval radars
Fire detection and prevention systems.
*Only 1 Naturalist Guide available when the total number of guests is less than 17.

---
---
Contact Us Today!

+1-877-209-7243
•

+593-2-6024-568
Infinity
Our Products

Royal Galapagos is a tour operator that offers visitors an optimum experience in the Galapagos Islands. Sail the Islands aboard specially designed yachts and explore a unique archipelago unlike any other on Earth.
---